products.product.add_to_cart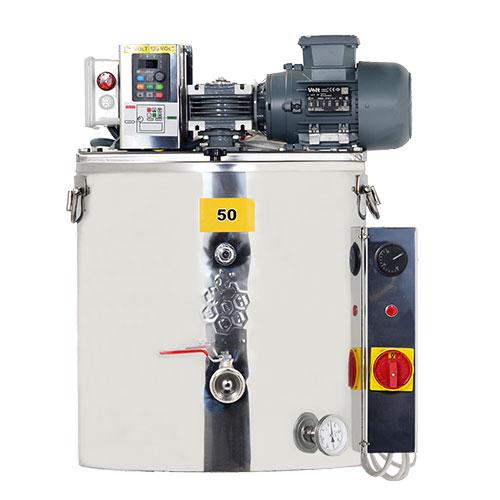 Heated Honey Creaming Machine 50 kg - Water Jacket
---
Built from high quality, acid resistant stainless steel with a heated water jacketed insulation. This honey creamer has been developed to produce in bulk. The machine is equipped with heavy-duty stainless-steel blades, specially designed to ensure even distribution of the mixing process and uniformity of the creamy honey. One you can't afford to miss out on!
2 in 1 Creaming & Melting power
Powering at 110 Volt
· The machine is running at constant speed,

· There is one main switch in the machine and when it is opened the machine starts operating.
· Heating option to uniformly decrystallize honey with its water jacket drum

· Emergency stop.

· Adjustable automatic cycles ; set the mixing time & set the rest time

· The working time can be changed from the dashboard on the machine.
· Includes stainless steel filtering sieve that fits in the drum
A guaranteed smooth, spreadable consistency.


Be the Master of your harvest 
Whipped honey is a uniform mix of small crystallized honey that prevents the formation of larger crystals, usually seen in unprocessed honey. It is a slow process that requires to standstill for one hour between each 15 minutes of mixing or another combination of time cycles to reach the consistency that YOU love! This honey creamer does it all by itself. Fully automated and customizable, its integrated system allows you to adjust the cycle's duration to up to 99 hours.
---
Share this Product