products.product.add_to_cart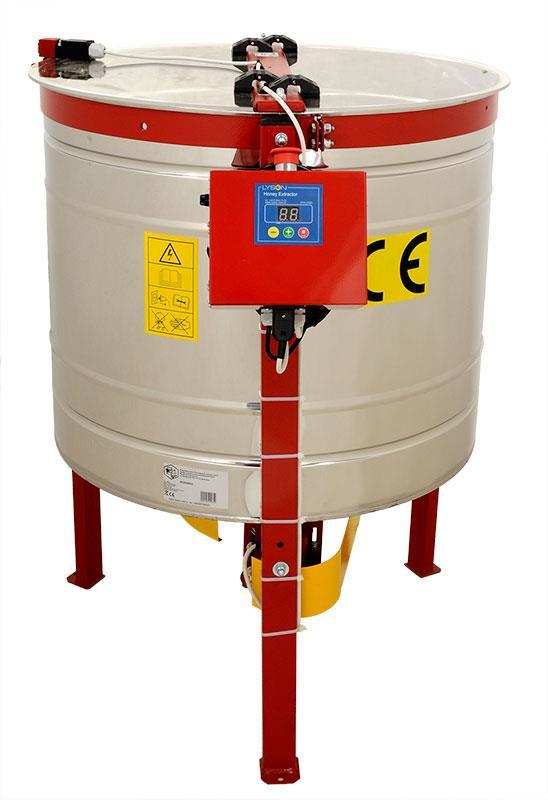 Extractor - Radial 20 Frame
---
A Convenient Extractor for the Fast-Growing Beekeeper
Have you ever run into a situation where you have to extract both deep and medium frames?  Most of us now have a combination of deep and medium hive boxes.  The solution...?  
This extractor has the capability of extracting 20 medium (6 ¼"), 20 shallow (5 3/8") or 8 deep (9 1/8") frames.
With this radial cage style honey is extracted from both sides of the frame eliminating the need to turn frames during extraction.  This allows honey to be extracted in one spin cycle.  Having only a 600 mm (24") diameter and a height of 39" this extractor is very compact in size.
Simplicity. Powered.
The extractor is powered by 110 volts along with the portable ability of 12 volts.  This allows the honey to be extracted in more remote areas.  The easy to use SDD digital controller commands the variable DC belt drive motor. Speed is adjusted by pressing up or down on the keypad.  The motor provides very efficient, low power operation by only providing power as needed during operation.  Energy is saved as the motor shuts down after 15 minutes of inactivity.
Safety is important. The brake system is engaged when the STOP button is pushed or when the EMERGENCY button is pushed.  For added safety the extractor shuts down when the cover is lifted.
 Built to Last
Built from high quality stainless steel the extractor comes with full length legs to improve support. The drum which is made of 24-gauge stainless steel has a 0.6 mm thickness and a conical drum base; helping to improve honey drainage through the 1 ¼" stainless steel valve.  Clear 3 mm acrylic covers allow viewing of the extraction process.  
 FEATURES
2 emergency stops: 1 on the tops of the controller and the other when the cover is lifted.
Controller powers off after 15 min of inactivity.
Clamp cables the can be attached to a car battery when electricity is unavailable.
A conical bottom to aid in the honey removal process.
Comes with both 12V battery connector and 110v plug.
 SPECIFICATIONS
Brand:

 

Lyson
Model:

 

W216
Power supply:

 

12v / 110v
Drum diameter:

 

600 mm
Drum thickness:

 

0.6 mm
Drum material:

 

Stainless steel
Cover:

 

3 mm acrylic glass
Honey Gate:

 

5/4" stainless steel
---
Share this Product